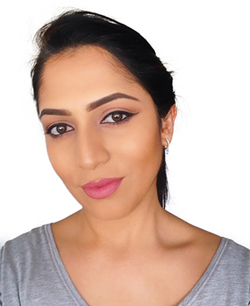 From a Junior Auditor to a Project Manager dealing with numbers led me to become a real geek! Always been passionate about Fashion, Makeup and Bollywood! Being born and brought up in Dubai, where glamour is at its peak moving to the UK motivated me even more to follow my passion – MAKEUP!
Some would say that I am a Fashion Makeup Artist, used to working with models for editorials as well as on the fashion runway.  Others who would argue that I am a Bridal Makeup Artist, who has explored with a broad variety of styles that range from ethnic, to glamorous, to contemporary.
Whilst both the above statements are true. I would say that am an Artist that enjoys exploring a live canvas. Having worked with magazine editors, photographers, videographers, models, brides, bridesmaids, and also other Artists; I feel at home when surrounded by people who are passionate and creative about makeup and color.
If you have an event that needs an Artist, get in touch.
I look forward to our chat.